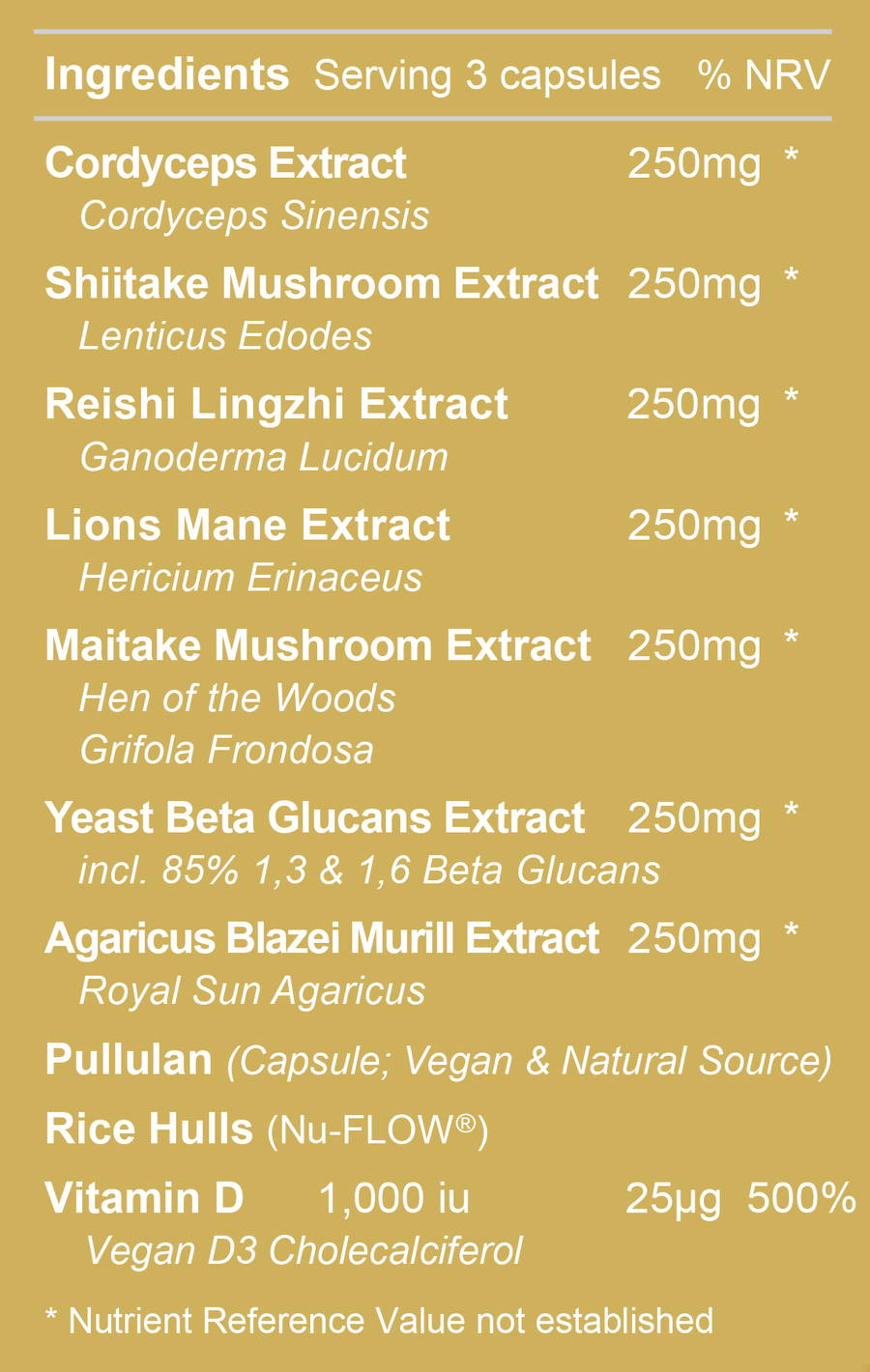 1 Serving Per Day = 3 Capsules
Total Servings = 30
90 Vegan Capsules
People looking for a mushroom complex to help support the immune system.
The ingredients in this formula have been chosen by our in-house researcher for their Thermogenic (metabolic stimulation) properties.
We are a member of the Health Foods and Manufacturer's Association (HFMA) which is an authoritative voice of the natural health industry which requires us to undergo extensive approval from a 3rd party regulator.
This product is Vegan and has Zero GMOs.
Vitamin C Liposomal - 250mg
Vitamin C Liposomal (Ascorbic Acid) - 250mg
Benefits of Vitamin C
Vitamin C increases iron absorption
Contributes to the reduction of tiredness and fatigue
Contributes to the protection of cells from oxidative stress
Quercetin Bioflavonoid - 250mg
Quercetin is a plant pigment it is many plants and foods such as red wine, onions, green tea, apples and berries.
NAC - 250mg
N-Acetyl L-Cysteine, more commonly known as NAC, is a pre-cursor to Glutathione.
L-Cysteine can be found naturally in the body as well as in foods such as chicken, red peppers and egg yolks.
However, supplementing with L-Cysteine is extremely unstable, whereas N-Acetyl L-Cysteine provides a stable form. The specific form NAC can't be obtained via the diet.
Taurine - 100mg
Taurine is a naturally occurring amino acid, found throughout the body. Higher levels of Taurine are concentrated in skeletal muscle and the brain and the highest levels of taurine is found in the retina.
Grape Seed Extract - 250mg
Grape Seed Extract - 250mg
Vitis Vinifera with 95% OPCs
Grape Seed Extract has been used since ancient times and has been used for its high concentrations of antioxidant compounds such as flavonoids, catechins and proanthocyanidins.
GSE is also rich in quercetin and resveratrol.
Naringin Citrus BioFlavonoid - 200mg
Naringin Citrus BioFlavonoid from Grapefruit (Citrus Paradisi) - 200mg
Curcumin Extract 95% - 200mg
Curcumin Extract 95% - 200mg
Boswellia Serrata Extract - 200mg
Boswellia Serrata Extract = 200mg
providing Boswellic Acids = 130mg
Also known as Indian Frankincense, providing 130mg of Boswellic Acids.
Legislation prohibits us from talking about herbs and their applications, however, there is a wealth of information available online about the uses of these over many years.
Vitamin B6 (P-5-P) - 300mg
Vitamin B9 (Folate) - 400ug
Vitamin B12 (Methylcobalamin) - 500ug
Benefits of Vitamin B6, B9 & B12
Vitamin B6 contributes to the normal function of the immune system

Vitamin B12 contributes to the reduction of tiredness and fatigue

Vitamin B9 contributes to normal blood formation
Vitamin K2 - 100ug
Plays a central role in the metabolism of calcium — the main mineral found in your bones and teeth.

It also contributes to normal blood clotting & the maintenance of normal bones.