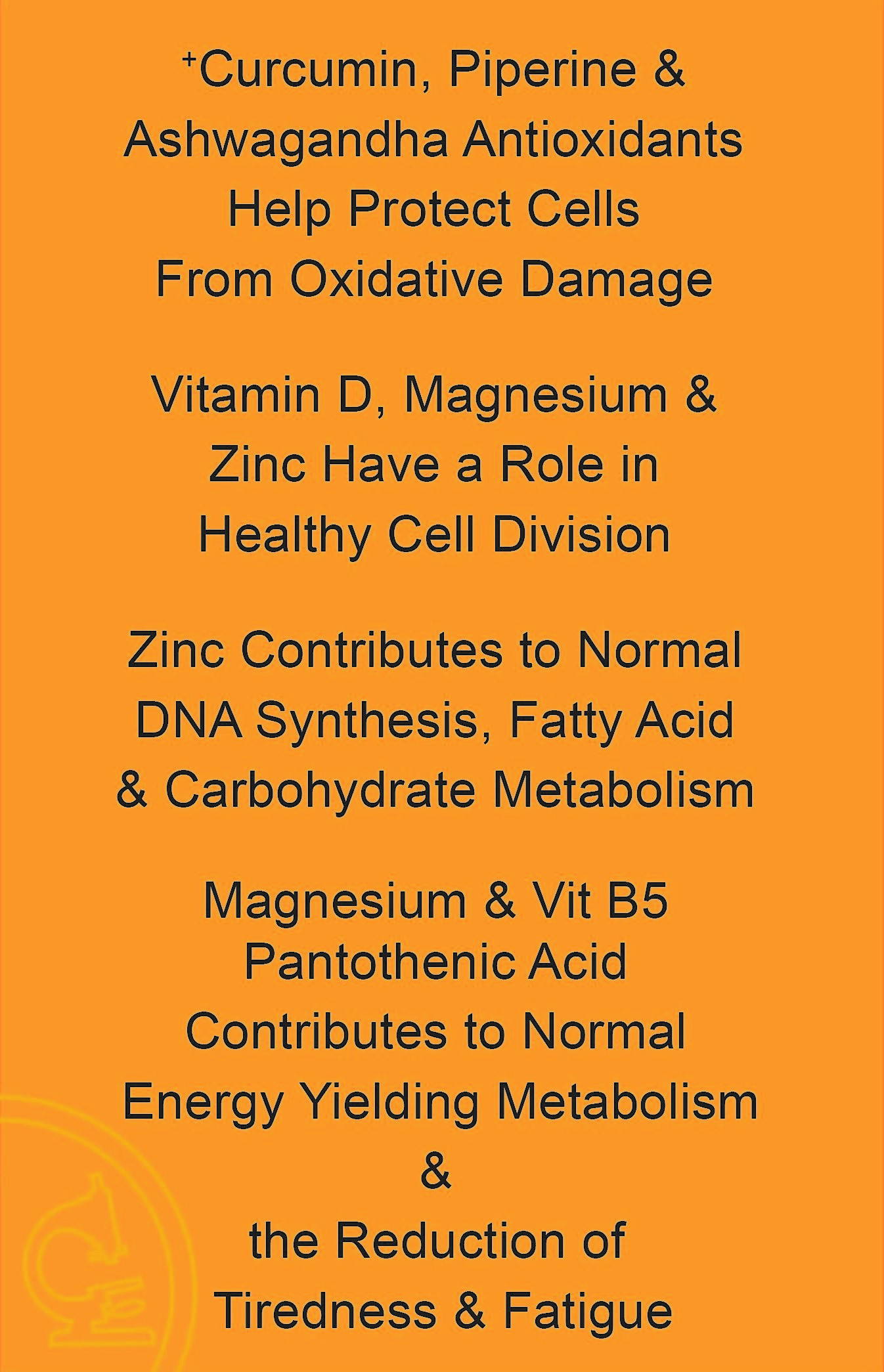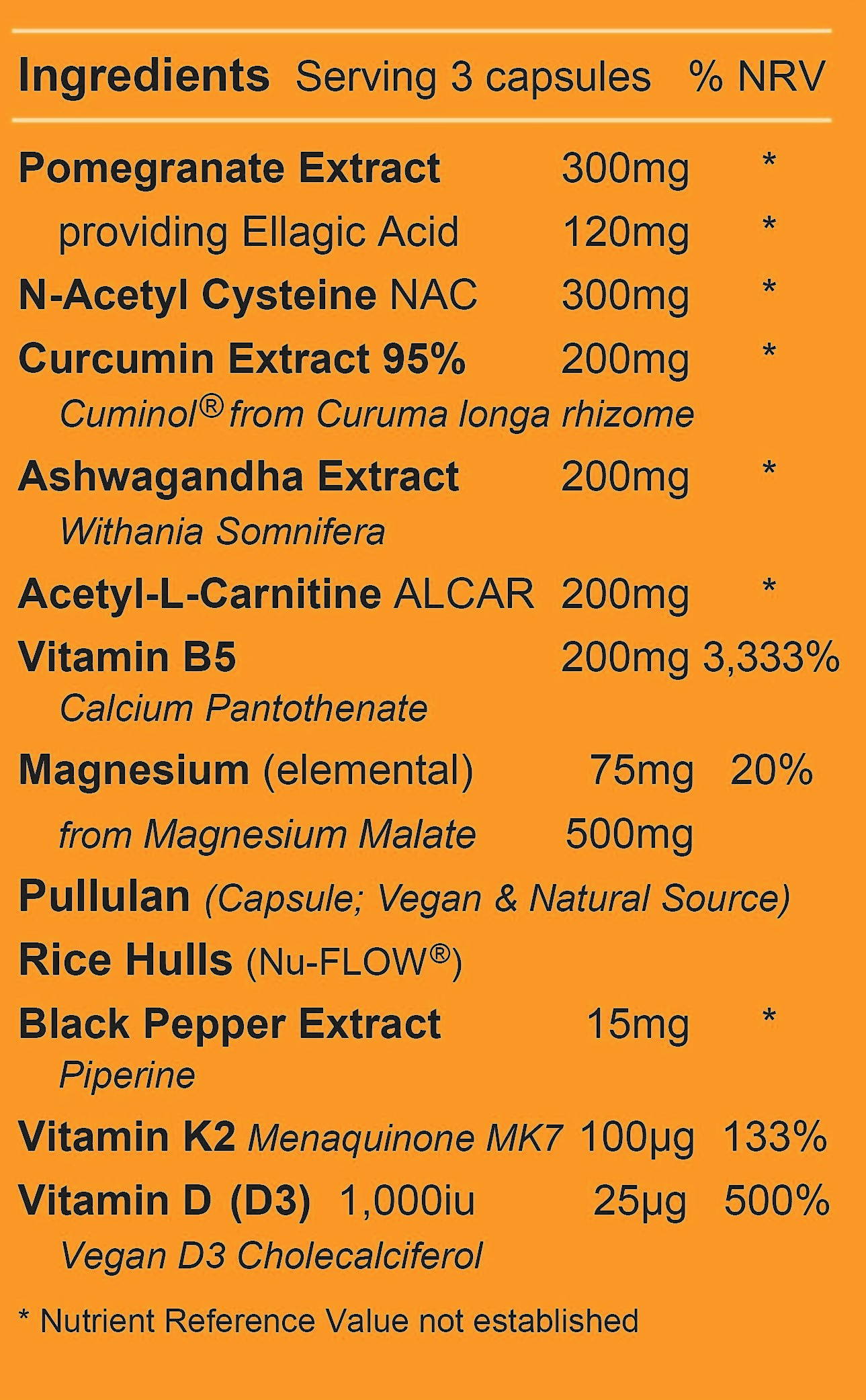 1 Serving Per Day = 3 Capsules
Total Servings = 90 Vegan Capsules (3 month supply)
People looking to protect cells from oxidative damage.
The ingredients in this formula have been chosen by our in-house researcher for their Anti-Oxidant properties.
We are a member of the Health Foods and Manufacturer's Association (HFMA) which is an authoritative voice of the natural health industry which requires us to undergo extensive approval from a 3rd party regulator.
This product is Vegan and has Zero GMOs.
Pomegranate Extract - 300mg
Ellagic Acid - 120mg
Pomegranate Extract contains Ellagic Acid which is the main active ingredient in pomegranates.
N-Acetyl L-Cysteine, more commonly known as NAC, is a pre-cursor to Glutathione.
L-Cysteine can be found naturally in the body as well as in foods such as chicken, red peppers and egg yolks.
However, supplementing with L-Cysteine is extremely unstable, whereas N-Acetyl L-Cysteine provides a stable form.
The specific form NAC can't be obtained via the diet.
Curcumin Extract 95% - 200mg
Curcumin Extract 95% - 200mg
Ashwagandha Extract (Withania Somnifera) - 200mg
Ashwagandha (Withania somnifera) is a staple herb used in Ayurveda, also known as Indian Ginseng or Winter Cherry.
Ashwagandha has had a massive rise in popularity in the last couple of years.
It is currently a very hot topic of research with more and more research being published every year.
Ashwagandha is organically grown in India and is only extracted from the Ashwagandha root, never the leaves. The reason for this is that the root is the primary part of the plant used in Ayurveda.
Vitamin B5 - 200mg
Benefits of Vitamin B5
Contributes to normal mental performance
Contributes to the reduction of tiredness and fatigue
Contributes to normal synthesis and metabolism of steroid hormones, vitamin D and some neurotransmitters
Magnesium Malate - 500mg
Benefits of Magnesium:
Magnesium contributes to normal functioning of the nervous system
Magnesium contributes to a reduction of tiredness and fatigue
Magnesium contributes to normal energy-yielding metabolism
Magnesium contributes to normal psychological function
Magnesium has a role in the process of cell division
Vitamin K2 - 100ug
High-quality Vitamin K supplement
Contributes to normal blood clotting
Supports the maintenance of bones
Vitamin D3 - 1,000iu
Known as the "Sunshine Vitamin", Vitamin D is crucial for our survival and we have included a Vegan Vitamin D3 Cholecalciferol.
Benefits of Vitamin D3
Vitamin D contributes to the maintenance of normal muscle function
Vitamin D contributes to the maintenance of normal bones & the normal function of the immune system